An amazing one-tube shisha made of stainless steel that allows for maximum customisation and smoking pleasure. Highest quality "Made in Germany" with all patented Steamulation features!
Hand blown crystal glass and V2A stainless steel parts, which are manufactured, designed and assembled in Germany, guarantee a long durability.
Click below to watch the product video!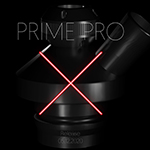 Scope of delivery:
1x Steamulation Prime Pro X Clear

V2A head adapter with M16x1,5 thread
V2A cole plate 20cm diameter
18.8 V2A smoke column adapter with M16x1,5 thread
V2A smoke column with 18.8 cut and M16x1,5 thread
Steamulation Prime Pro X single-hose with Steamulation Purge Control and Steamulation Airflow Control
Steamulation Prime Pro X V2A dip-tube (G1/4″ thread) with integrated, adjustable diffuser
Hand blown crystal glass bowl with SteamClick 360 closure bottom
1x V2A hose adapter (18.8)
Unique serial number
Technical details:
Height: 47cm / 18,5″
Weight: 3,4kg / 7,5 lb
Diameter Glass Bowl: 20cm / 7,9″
Notable Features:

adjustable diffuser
Steamulation Purge Control
Steamulation Airflow Control
SteamClick 360

Recommended filling level: 0,8 – 0,9l
18.8 cut for hose adapter & smoke column adapter