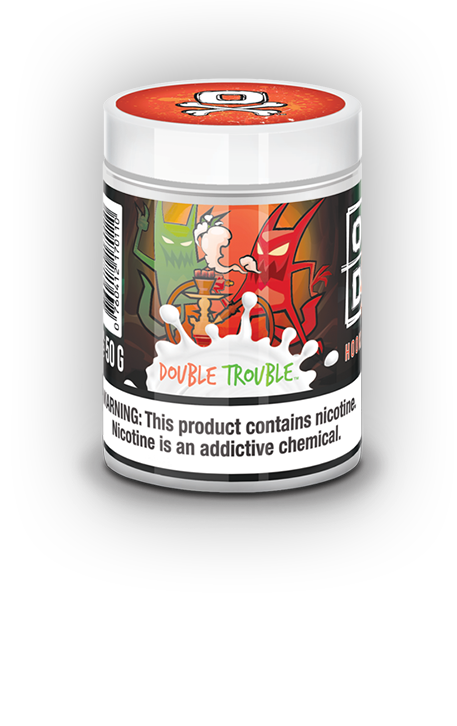 Overdozz Tobacco
Get ready to entrap yourself in an extravagant experience of delicate flavors of Arabian Origin. Overdozz is an ingeniously crafted Tobacco Brand featuring finely cut Virginia Tobacco Leaves and an artistic gamut of flavors for a long, luxurious hookah session.
Satiate your taste buds with Overdozz 24 Karatine Hookah Shisha, a unique blend that will lure you right away. Enjoy the sweet, savory union of cookies and cappuccino, perfected with a dash of pineapple and banana.
Bad Habit
Overdozz Bad Habit is your ticket to a flavorsome wonderland. Overdozz is an exclusive Hookah Tobacco Brand prepared skillfully with perfectly chopped Virginia Tobacco Leaves and offers you a myriad of exotic flavors of Arabian Origin.
Nothing is more satisfying than smoking a bowl of real grape flavor. Beware, it is so juicy and sweet that it is going to be your next Bad Habit in no time.
Crazy Ex
Ready to go crazy with this stunning Overdozz Shisha flavor. There is going to be an overdose of fun and flavors with Overdozz Hookah Tobaccos, a premium tobacco brand that brings you elite flavors of Arabian Origin infused in finely chopped Virginia Tobacco Leaves.
Imagine when your favorite Double Trouble tobacco flavor gets a boost of lemon. Crazy Ex is going to explode a bundle of delicious tastes and immerse you in a mesmerizing experience
Double Trouble
Nothing is better than a bowl of Overdozz Shisha after a hectic day. Enjoy a platter of mesmerizing flavors of Arabian Origin imbued in perfectly cut Virginia Tobacco Leaves.
Double the flavor, and enjoyment with Overdozz's most charismatic and emblematic shisha, Double Trouble. It is a delightful concoction of double apple encouraged by the original shisha taste.
Fresh Green
Immerse yourself in a flood of flavors and excitement. Overdozz Tobacco is an urban Hookah Shisha brand that combined beautiful tastes with the perfectly chopped Virginia Tobacco leaves for an exotic smoke session.
Let a bowl of Overdozz Fresh Greens freshen you up. It is not a veggie mix but a cool and rejuvenating mentholated blend that you cannot afford to miss.
Go For Broke
Overdozz Go For Broke is going to enrich your evening with an overdose of crisp tastes of Arabian Origin. Overdozz is a superior tobacco brand that offers you exclusive flavors saturating intricately cut Virginia Tobacco Leaves.
Would you dare to entrap yourself in some 'Go For Broke'? It features the best and most ancestral flavors of grapes with delicate hints of refreshing mint.
Heat Wave
When the scorching heat of summer gets unbearable, Overdozz's Heat Wave will come to your rescue. For the first time, you are going to experience something unique and colorful in Overdozz series of tobaccos. It is a combination of neatly cut Virginia Tobacco Leaves saturated Arab flavors.
Relish a well-composed mix of spice and cooling mint that are contradictory to each other. It is a unique blend of Arab Cinnamon and refreshing mint that will make your day.
Love Bug
Overdozz, a premium shisha brand is committed to offering you a salver of elegant flavor mixes of Arabian Origin infused in perfectly chopped Virginia Tobacco Leaves. Get ready to indulge yourself in a wonderful beachy shisha experience.
Overdozz is best-known for providing you some unthinkable concoctions and Love Bug is the most special of all. It combines the flavors of Maracuya fruit and cool mint. Are you ready to smoke a bowl of Love Bug?
Lusidrem
When innovation meets creativity, you get a wide spectrum of flavors like those of Overdozz. Prepared with utmost care and precision using fine Virginia Tobacco leaves, Overdozz brings you flavors of Arabian Origin.
Don't be surprised if you start dreaming while enjoying a bowl of Lusidrem. This unusual blend features a rare combination of juicy watermelon and chilling mint. One pull and you will agree how delicious it is.
Psych Out
Nothing is more fulfilling than indulging in a bowl of splendid Overdozz fruit flavors of Arabian Origin. The urban tobacco brand is committed to bringing you an excellent chain of delicious flavors prepared using Virginia Tobacco Leaves with maximum care. Get ready to go crazy!
It is time to forget your worries and immerse in the beautiful amalgamation of subtle pineapple juice and strong minty flavors. The blend balances the coolness of minty and juiciness of pineapple wonderfully.
Summer Fling
Summers are often scorching and unbearable but not anymore. Overdozz is all set to tear the summer heat with its amazing Summer Fling Shisha flavor. This Overdozz creation is an emblem of real flavors of Arabian Origin saturated in Virginia Tobacco leaves.
You can never have enough of this magnificent blend. The tartness of blueberries got more delicious and enjoyable with the perfect touch of cool mint.
Wild Night Out
It is time to awaken yourself with an explosion of spectacular flavors brought from Arab. When imbued in the perfectly cut Virginia Tobacco leaves, this myriad of delicious shishas become exotic Overdozz tobaccos.
You will be amazed in no time by Wild Night Out. The Overdozz shisha can flatter anyone with its vibrant lemon cake flavors. The only question is whether you will eat it or smoke it.
Zero Gravity
It is time to let go of your day's tension and relax with a soothing bowl of Overdozz shisha. The urban tobacco brand is an epitome of real fruity flavors of Arabian Origin packed in nicely chopped Virginia Leaves.
Nothing can be more epic and tastier than a perfectly balanced blend of tart lemon and refreshing mint. This lemony-minty Overdozz mix is your ticket to the cosmos.

*Must be 21+ to purchase this product.