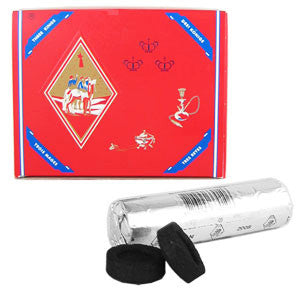 The Three Kings Charcoal is the original Quick Lighting Charcoal Brand used for hookahs. Manufactured in Holland, Three Kings Charcoal are know worldwide for their quality. They are virtually odorless, tasteless and do not interfere with flavor of your shisha. These coals are sold per roll. The more you buy the more you save! 5starhookah only sells genuine Three Kings, beware of knock offs!
*Must Read Before Purchasing*
Due to regulations of shipping flammable material, this item can only be shipped
by the following guidelines:
This item cannot be shipped Internationally
Can only be shipped with FedEx Ground or USPS Priority
Cannot ship via air delivery
Cannot ship to APO, DPO, FPO
Please not that if this item is in your cart against regulations it will be removed
from your cart and you will be refunded for it.