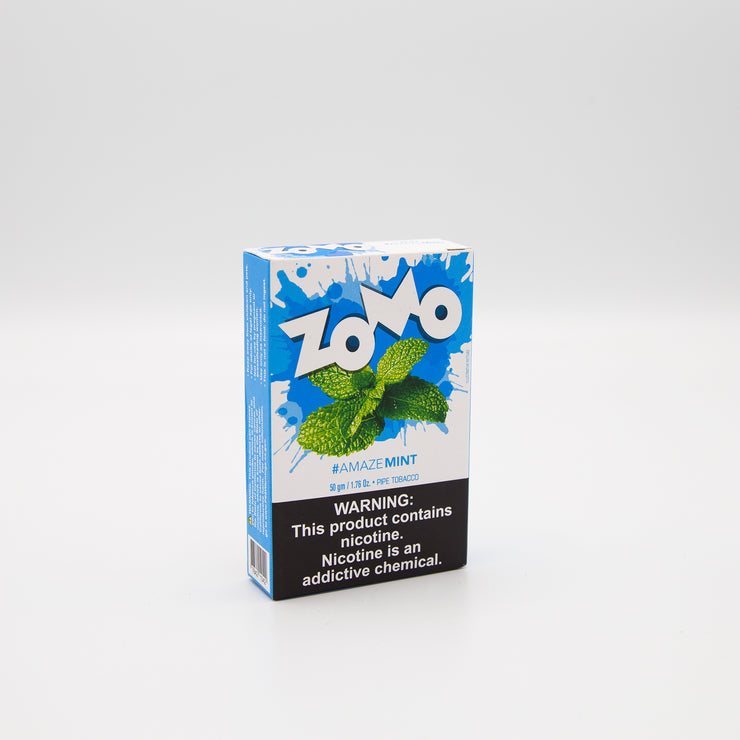 Zomo Tobacco is number one in Latin America. There are two lines. Barrel aged dark leaf tobacco, and American Leaf tobacco. Zomo Tobacco is made in Paraguay. 
ACAI CREAM - With great pride, we are delighted to announce the big arrival of the true essence of rich flavors of The Acai Cream available now. Get ready to taste the sweet and fresh flavors of the Acai Cream, typically available in the cities located in the north and northeast Brazilian region and experience the difference.
BANANA CREAM - A perfect combination of flavors of Banana delicacy; a type of tropical fruit with the conjoint taste of cinnamon is on the way to treat your taste buds. Blended exclusively for the Hookah lovers, Zomo Banana Cinnamon is going to be your all-time favorite flavor that will offer you a different and unforgettable taste. It is must to try flavor, if you are a demanding smoker soul!
BLUEBERRY - An essence that will introduce the sweetness and exotic flavors in your taste buds! Coming straight away from the secluded regions of Asia and Europe, Zomo blueberry essence is what you are looking for in your upcoming hookah sessions. We bet once you will try it, it will become a regular order of yours.
BLUEBERRY MINT - The exclusive and first edition of essence of Blueberry combined with the flavor of mint is all available at Zomo. Get ready to give your senses a wake up call with the signature tastes of Blueberry, dipped with the freshness of Mint. The aroma of Mint wrapped with the exotic blueberry is a flavour, you must not miss.
CINNAMON GUM - A sophisticated combination of unique flavours of Cinnamon with a smart fusion of chewing gum is all set to make your evening more special. Beat the winter vibes with the smoke of this new flavour.
COLA MINT - Good news for Cola lovers! Don't miss any chance of skipping your childhood favorite drink. To let you revive your childhood memories, Zomo is in his happy space to introduce the blended fresh- tasting of peppermint with Cola. Let your senses feel the divine sensation of peppermint, indulged in the flavors of Cola. It is a must -to be try flavor, if you are a true Cola lover.
DOUBLE APPLE - Why to get settle for one apple, when you can get two apples served at same time. It's time to double up your energies! Here is a great fusion of green and red apples, waiting for letting you rejuvenate your mind and soul! Experience the balance of sweetness with citrus and get ready for a soothing experience.
GRAPE - White Grape 
GRAPE MINT - The exclusive freshness of mint mixed with the essence of Grapes. If you are looking for an irritant-free, long smoke, think about choosing the Grape Mint flavor. Indulge in the exotic blending of wonderful tastes.
GUAVA - Make your taste buds ready for light flavors in your bowl. Pick the My Guava flavor, typically made by a Brazilian fruit, presented exclusively by Zomo. Give a long- lasting treat of sweetness, uniqueness to your taste buds, associated with the bitterness.
KIWI W/ LEMON - Make up your mood to enjoy the freshness of lemon combined with flavors of Kiwi. Let us serve you in an incredible way with our hookah flavors of My Kiwi with Lemon.
LEMON MINT - A true combination of freshness with intensity of citric acid, is awaiting to be served in your next Hookah bowl. Indulge yourself with the unique flavours of peppermint with pinch of citrus in your very next hookah session.
MANGO - Get indulged in the taste of Mango, a native fruit found in South and Southeast Asia. Zomo is all set to introduce its is a native fruit from the south and southeast Asia; Its succulence identifies it. Bearing in mind that it is a very consumed and loved fruit in several places, Zomo produced Mango flavor, which stands out for its distinct fragrance. Ideal to be consumed on hot days, because its flavor transports us to the typical summer climate.
MELON - Admire the taste of melon in all new exciting way. Zomo My Melon is the flavor designed to meet your light moods. With the great intensity of fruit, beat the summers with this coolest flavor available with us.
MINT - Good News for the hookah lovers in the town. Zomo is all set to bring the Mint flavor in your bowl mixed with peppermint pinches. Make sure you have this exceptional flavor on your table in your next visit.
ORANGE - The taste of world famous orange fruit is all prepared to make you feel exotic with your every Hookah puff. We are more than excited to announce the addition of orange flavor in the list of our Zomo Hookah flavors.
ORANGE MINT - Get some dose of citrus fruit orange with the mixed freshness of mint in our very new Zomo orange mint flavor. Deal with the sunny summers with this powerpack taste of hookah.
PASSION FRUIT - Delicacies of tropical and subtropical areas of America, straight in your hookah bowl. With the passion fruit in your servings, experience the mild and sweet flavors in your next visit with Zomo Passion fruit.
PASSION FRUIT W/ MINT - We are delighted to offer you the incredible flavor of Passion fruit dipped in with the mint. It is the best option to go for if you are looking for a good change.
SPICE CHAI - The unmistakable cinnamon flavor dipped in the essence of Vanilla is our new addition. Spiced Chai is surely a flavour to enjoy when you are in a mood to hang out with your friends and make the evening more special.
STRAWBERRY - Create a lifelong memory of new flavor in your heart with our new Strawberry essence flavor. Let every puff of your hookah be a memorable taste for your taste buds with Zomo My Strawberry flavors.
STRAWBERRY CREAMY - Serving you the real delicacy of strawberry and cream in our new Zomo strawberry creamy flavor. Retreat you buds with the bittersweet feature of strawberry in your upcoming hookah session.
WHITE CHOCO BERRY - Zomo is all excited to share the launch of its one of the exclusive flavors; Zomo White Choco Berry. It is a mixture of the subtleness of white chocolate with the eccentric taste of raspberry. An ideal flavor to go for while you hangout with your friends for a hookah outing
WATERMELON - That taste of the summer that we find in the pleasing fragrance of watermelon and a pinch of the freshness of peppermint. Watermelon Mint presents this feeling in its flavor. The blend of these tastes creates a perfect harmony between the peppermint and the sweetness of the fruit originating in Africa.
WATERMELON MINT - With the pleasing fragrance of watermelon, get the freshness of peppermint in our new Watermelon Mint flavor. Get yourself introduced in the perfect harmony of the sweetness of fruit with a pinch of peppermint.
WATERLEMON - Keeping up the true spirit of Brazil on a toss, we have bought to you the flavor of passion, courage, claw all served in a single bowl. This real flavor of Timao will give you a sneak peek to the Brazilian passion for football.